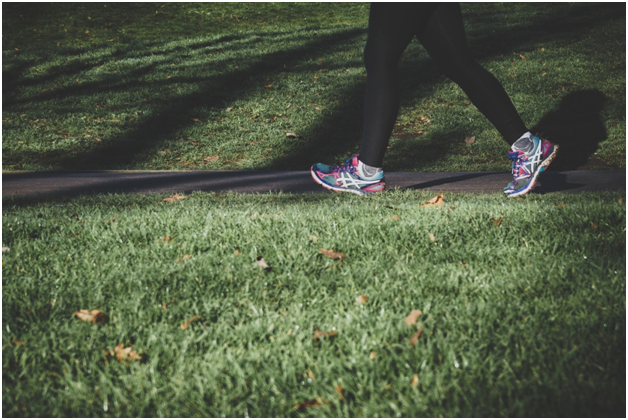 God has blessed us with countless blessings, he has given us eyes to see the beauty of nature and gives us ears to hear the pleasant sounds. We are also blessed with feet so that we can go everywhere by walking on our feet.
We, the people of this modern era have the facilities of transport. Therefore, we walk less and drive more.
Walking is a great way to improve our health. there is no need to do physical activity for longer periods, a walk of only 30 minutes of the walk can increase our fitness. Our ancestors walk more and that's why they were fit and healthy.
It can also reduce your risk of developing various serious diseases. There is another benefit of walking is that it is free and doesn't require any special equipment or training. It can also help to live a longer life.
The road traffic harms our environment. This creates air pollution and also causing global warming.
We should try to walk when you can, it can our environment.we need to control the use of traffic and people are using various strategies to reduce the uses of traffic. If you set a reward for something everyone will do it, the same phenomenon is used in the city of Viena to reduce the use of transport.
Vienna is set to reward those who get around the city on foot, by bicycle, or by public transport instead of using their cars. The Austrian capital is trialing a smartphone app that uses motion-tracking to measure the distance covered and the CO2 saving made.
When users have saved 20 kilograms of CO2—the equivalent of about two weeks of walking, cycling, or using public transport—they receive one "culture token".
Tokens can be exchanged for free tickets to four cultural venues: the Volkstheater, the Vienna Museum, the Kunsthalle, and the Konzerthaus.
"We want to reward CO2 reduction with a cultural experience," says Vienna city council member Peter Hanke. If the trial is a success, the scheme will be rolled out to the entire capital. 
——————————————————————————————————————-Get inspired by these stories and start your own cool deeds. Let's fill every neighborhood with good and cool activities. Start your first GroupUp activity or event, invite others, register participants & share your cool deeds so others can follow. Use cooldeeds.org's absolutely free tools to start your initiatives.
Step 1: CREATE THE EVENT/ACTIVITY:
Get inspiration and pick a date and create an "Event / Group Up" at www.cooldeeds.org. It is absolutely FREE. There are so many ideas on www.cooldeeds.org, let's take one and go with it or come up with your own ideas and start something good and cool in your neighborhood. Click here to get started.
Step 2: ANNOUNCE & INVITE:
Share it on Facebook, Twitter, and other social media accounts to announce. Send an invite to your friends, neighbors and family to join the "Event / Group Up".
Step 3: PERFORM EVENT & FEEL GOOD:
Perform the event, take images, videos, and share on www.cooldeeds.org to inspire the world so others can do the same in their community and neighborhood.
You did it…….Even if you did this alone, you should be proud of yourself as we surely are. Let's start creating an "Event / Group Up" today. Please note cooldeeds.org is absolutely FREE for all the above activities. Our only purpose is to spread good and cool activities everywhere. We need volunteers like you to make a difference in the world.